While vaping undoubtedly poses considerably less health risks than traditional tobacco smoking and offers vapers a huge variety of different flavours to choose from, there in no denying vape kits are far less convenient to carry round compared to a packet of cigarettes!
OK you don't need to carry a lighter with you, but with some mods needing two batteries and often weighing a tone, we've decided to take a look at some of the lighter more stylish vaping devices that won't weigh your pockets down.
Smaller doesn't necessarily mean weaker. Many of the smaller kits that we stock on the Ace Vapes website provide a great vaping experience for both new and seasoned vapes alike. Many of the pen style vaping kits that require a smaller battery offer a great flavour and power.
The top 3 small vaping devices
Smok Stick V8
Manufactured by Smok, one of the best known vaping brands on the market, this product is of the highest quality and will deliver great tasting and big clouds! Available in a variety of different colours to suit your personal preference, this kit is small, sleek and stylish. Made from stainless steel and only weighing in at 60g it's the perfect vaping device for people on the move. The kits uses the Smok Big Baby tank and has a 2ml capacity. This small but strong device has a 3000 mAh battery thats more than powerful enough to keep you vaping all day.
Innokin Endura T20S
The perfect vape kit for beginners or those looking for a small compact vape pen. Capable of delivering great taste and flavour, the Innokin Endure has long lasting easy to charge 1500mAh battery that won't weigh you down. This pen is simple to use, operated by a single button. Available in multiple different finishes including stainless steel, blue, red, grey purple and black, the Endura T20S is a loveable lightweight kit!
Smok Prince Stick
Weighing in at 63g the Smok Prince stick is slightly heavier that the Smoking stick V8 and Innokin Endura. However with the extra 3g comes a premium vaping experience like no other! In terms of power, taste, flavour and cloud the Smok Prince Stick outperforms some of the biggest chunkiest vape kits on the market.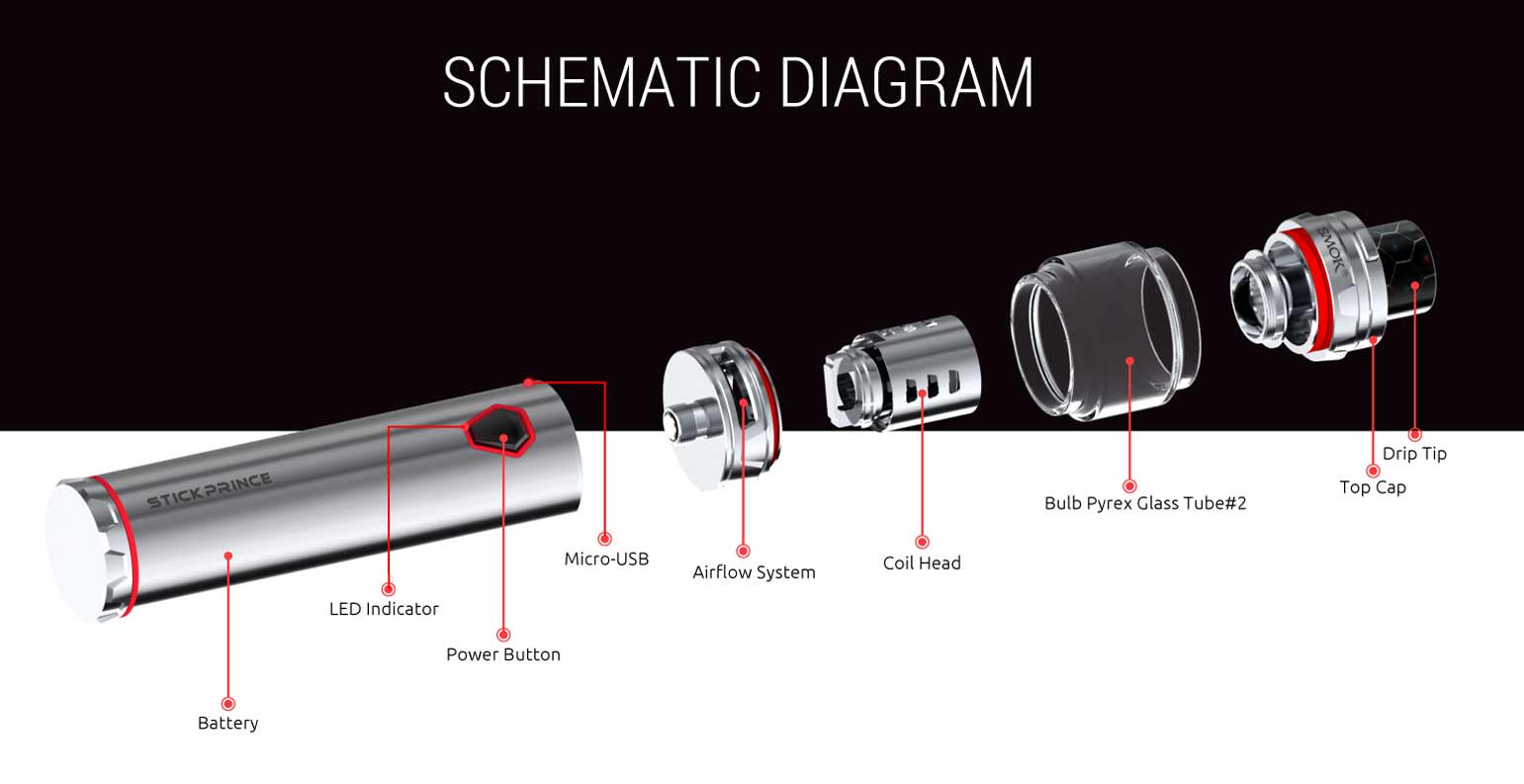 A 3000mAh battery combined with the TFV12 Prince tank and coil delivers big tasty vaping from a small sleek pen. At just 25mm in diameter and 85mm in height, Smok have designed and delivered customers with perhaps the very best vaping device on the market. If you want a premium vaping experience from a lightweight easy to carry and easy to use kit then the Smok Prince Stick is the kit you've been looking for!